The U.S. Economy currently has More Open Jobs than Jobs Seekers
Experts attribute current hiring difficulties to several primary factors: unemployment benefits, pandemic concerns, and childcare. One thing is clear, the issue is not down to a shortage of jobs. In June, according to the Job Openings and Labor Turnover Survey, U.S. job openings soared to a record 10.1 million, exceeding available workers for the first time since the pandemic recession began. A handful of sectors were even tighter than the broad ratio implied. The wholesale trade sector— businesses that sell goods and merchandise to retailers — had a three-month average ratio of just 0.4 workers-per-opening, per Economic Policy Institute data. That made it the tightest industry in the U.S. Meanwhile, the finance, insurance, and government sectors displayed similar ratios of 0.6, and restaurants and accommodation businesses had ratios of 0.8.
U.S Job Opening Hit Record High as Workers Quit in Droves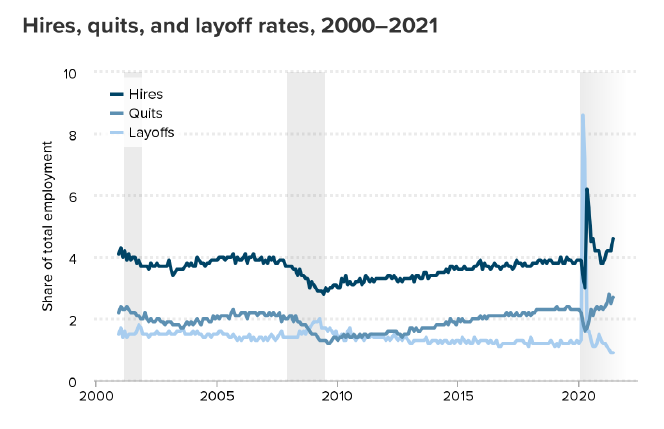 The sectors most adversely affected by the COVID-related economic shutdown are still struggling to fully recover. Pandemic-related concerns are still a key factor for many Americans, as jobs that require physical interaction with other people (nurses, servers, checkout staff, hotel cleaners, etc.) continue to receive substantially fewer candidates than open positions. University of Massachusetts Boston professor Françoise Carré noted that retail jobs have been particularly grueling during the pandemic because of their "frantic pace" and employees' fears over catching COVID-19.
Workers Attitude
Harvard University economist Lawrence Katz has highlighted the fact that, while many employers might want things to go back to the way they were before the pandemic, many workers have something else in mind. "It's a mismatch of expectations and aspirations," he said.
Rich Templin, a lobbyist for Florida AFL-CIO, a federation of labor unions around the state, commented that the biggest issue is that jobs in the tourism and service industries don't pay well and don't provide benefits. "We are seeing a major reset of the labor market in this country because of what we just went through and what we're going through right now. What business owners are saying is, 'We want you to come back under the old rules and be paid poverty-level wages,'" Templin said. "And people are saying, 'no.'"
Chris Tilly, a professor at UCLA's Luskin School of Public Affairs, said it's hard to make predictions about what's next for the labor market, but noted that consumer demand appears to be out pacing retailers' ability to staff stores –circumstances that give workers more leverage. "I don't think we're at a point where workers have permanently gained the upper hand, but I would be cautious about saying exactly when the power is going to shift back more to employers," he said. The central issue is that "retailers are having trouble attracting workers at the rates of pay that they're offering. Consumer demand is expanding faster than people are able and willing to go back into the labor force," he said.
Echoing his sentiments, Sylvia Allegretto, a UC Berkeley labor economist, pointed out:"There's simply no labor shortage when you're talking about finding house cleaners for a hotel—there is a shortage of workers who want to work at what you're offering." She said the country is experiencing a "wage and benefits shortage."
Logistic Difficulties
Federal Reserve Chairman Jerome Powell blamed additional human resource factors for supply shortages and the consequent price rises, including skills mismatches and geographic differences. Hiring new employees is a time-consuming process.
There are limits on how fast employers can hire, and the problem is only aggravated by the high level of people now quitting their jobs to pursue other opportunities.
Skills mismatches are a solid contributor to rising costs and slower economic recovery, including within the real estate industry in particular.
Kevin Liang, vice president at Argo Construction, commented that builders have not been able to keep up with demand due to skilled labor shortfalls. "That raises concerns about the quality ofwork being done on construction sites,"Liang said. "And the current supply chain issues, everything from material shortages to scarce shipping containers, to a shortage of truckers, everything in that supply chain has a significant effect on construction."
Gary Kaplan, president of construction for AXA XL, noted that the sector's labor shortage concerns are not new, but the shortfall effects are beginning to be reflected in insurance claims. Namely, unskilled workers are being mentioned as the number one cause for subcontractor default insurance claims.
It is also likely that geographical mismatches are occurring between where businesses are hiring and where the unemployed are currently located. These mismatches are not only present across state lines, but also within metropolitan areas.