Where is the price rising?
In June, the National Federation of Independent Business (NFIB), found that 47% of small business owners are raising their average selling prices, the highest reading since January 1981, at the tail-endof the Great Inflation of the 1970s.
Price hikes were most frequent in wholesale (82% higher, 4% lower), retail (63% higher, 1% lower), and manufacturing (62% higher, 5% lower). Seasonallya djusted, a net 44% plan price hikes (up 1point). The NFIB report concludes, "The incidence of price hikes on Main Street is clearly on the rise as owners pass on rising labor and operating costs to their customers."
Why Prices are Rising?
The federal reserve has highlighted two main culprits for this current rise in prices: Supply Shortage & Hiring Difficulties
Supply Shortage
Due to the supply chain bottleneck mentioned above, the prices for many goods and products have risen significantly. For example, in May, lumber (LBS) reflected a massive 461% increase over the past year. However, lumber prices have begun to fall, and as of mid-August are only 20% up on their pre-pandemic price, at the end of January2020. This data may support the Fed's position that current inflation will mostly be short-lived.
In terms of shelter, which makes up nearly one-third of the CPI, prices increased 0.5% for the month, and are now 2.6% up on the June 2020 figures.
"What this really shows is inflation pressures remain more acute than appreciated and are going to be with us for a longer period," said Sarah House, senior economist for Wells Fargo's Corporate and Investment Bank. "We are seeing areas where there's going to be ongoing inflation pressure even after we get past some of those acute price hikes in a handful of sectors."
Returning to the lagging effect of higher house prices on inflation, a
paper by Fannie Mae suggests that CPI components for rents tend to follow the Case-Shiller price index, with a delay of about five quarters. Eric Brescia, an economist at Fannie Mae, has drawn the following conclusions:
Due to how shelter costs are measured, the housing components of the indices decelerated considerably over the pastyear, despite robust home price appreciation. This has kept topline inflation from being even higher.
Lagged effects from the past year's house price appreciation and more recent rent recovery could begin to flow into inflation measures as soon as the May readings.
House price gains to date suggest an eventual acceleration in shelter inflation from the current rate of 2.0 percent annualized to about 4.5 percent. If house price growth continues at the current pace, shelter inflation would likely move even higher.
Timing lags suggest that increasing shelter inflation will last through at leastצ2022, meaning "transitory" increases to the overall inflation rate may be more prolonged than many expect.
Due to the heavy weight given to shelter, housing could contribute more than two percentage points to core CPI inflation bythe end of 2022 and about one percentage point to the core PCE. Both would be the most substantial contributions since 1990.
The global supply chain grid lock may not be cleared until well into 2022. Shipping rates continue to soar, delivery delays are up significantly, and inventories are insteady decline. Container freight rates, forexample, have increased more than 400% over pre-pandemic levels.
According to the Institute for Supply Management's latest data, delivery timeshave also slowed, with manufacturing supplier delivery times roughly 30%  slower than they were a year ago.
"Shipping costs are increasing at a double-digit pace, wait times for products remain unusually long even as throughput at ports has improved, inventories are still inadequate, and labor is hard to find," theWells Fargo economists wrote. "Not onlyare these problems symptomatic of ongoing supply chain constraints, they area source of price pressure that continues to filter through the economy and stoke inflation."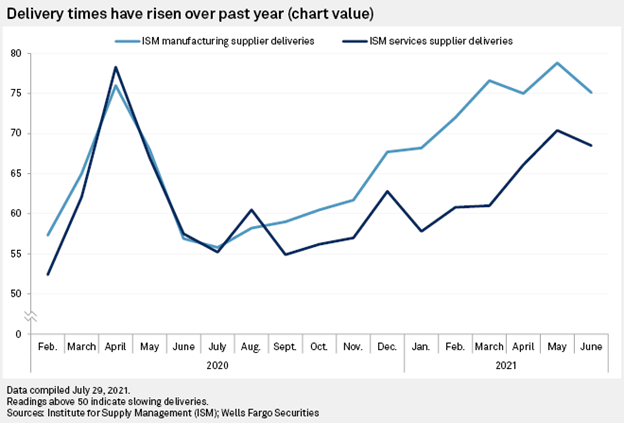 Ken Simonson, chief economist at the Associated General Contractors of America, commented in the AGC's June release that, "Steadily worsening production and delivery delays have exceeded even the record cost increases for numerous materials as the biggest headache for many non-residential contractors. If they can't get the materials,they can't put employees to work."
He added that contractors are being told they must wait nearly a year to receive steel shipments and 4-6 months for roofing materials. As a result, home builders could not keep up with demand, manufacturers faced delivery delays of materials needed to finish goods, and "it remained difficult for many firms to hire new workers, especially low-wage hourly workers, truck drivers, and skilled trades people."
Of course, the construction industry is far from being alone in this predicament. Two other notable sectors suffering from supply issues are the semiconductor and automotive industries, as the Computer Chip Shortage of 2021 shows no signs of slowing.
Intel has warned that the global semiconductor shortage that has affected the auto industry and raised the cost of some consumer electronics could last until the middle of 2023. "While I expec tshortages to bottom out in the second half [of 2021], it will take another one to two years before the industry is able to completely catch up with demand," CEO Patrick Gelsinger said recently.
That is particularly disheartening news for carmakers, with many of their plants lying idle this year due to a lack of chips –General Motors was forced to stop making most of its full-sized pickup trucks for aweek in July. Due to the limited supply ofnew vehicles, used car prices are soaring.
Goldman Sachs has said that new car inventories are unlikely to recover until September and will remain well below pre-pandemic levels through the end of next year. The bank said it expects new car inventories to fall further in August, toaround 1 million vehicles, before beginning to steadily increase in September. The firm forecasts that new car prices will likely continue to rise over the next few months, peaking around 6% above their pre-pandemic level toward the end of this year.